How does it work?
In a visually flooded advertising space, where advertisers are constantly seeking customer attention with visually competing POS displays, Aropromo is a point of sale scent diffuser that lets your brand stand out.
Aropromo can create a truly multi-sensory promotional campaign, taking Point of Sale displays to the next level, allowing customers to interact and experience your product through scent.
---
What is the process?
We understand the importance of coherent marketing message and we know how to deliver powerful and unique scent marketing solutions to our clients. Our team will work closely with your marketing and creative departments to develop a point of sale scent campaign that is perfectly tailored to your brand.
You can choose to provide us with a sample of your product fragrance or tap into our perfumers expertise and have Air Aroma design a bespoke fragrance for your brand or campaign. Once the fragrance is determined, Air Aroma then incorporates the scent into the Aropromo scenting device. From there the Aropromo device is embedded into any size stand or shape you can imagine.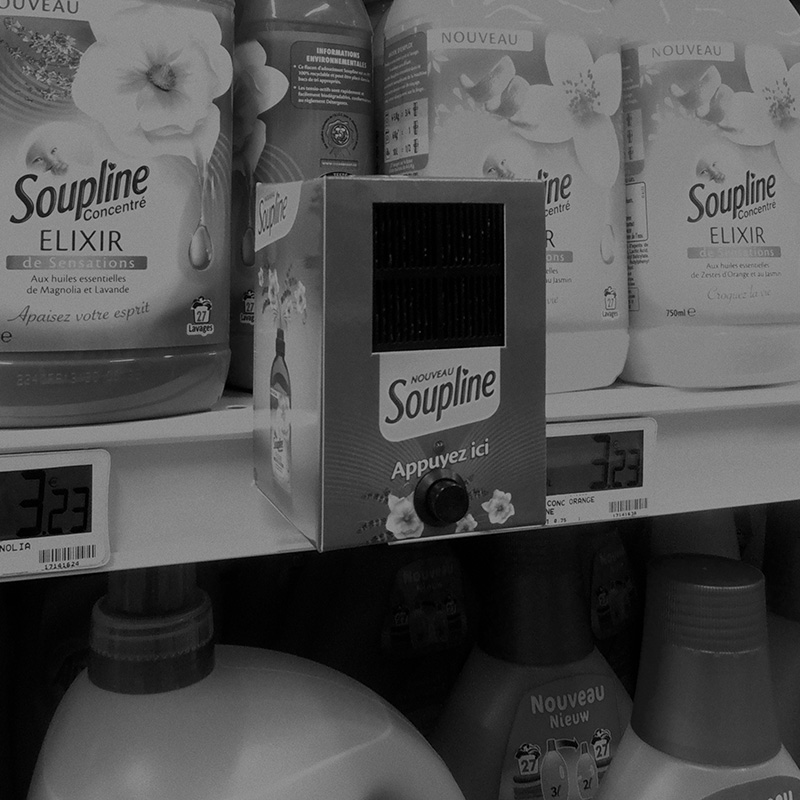 How is the scent released?
Aropromo can be triggered in a variety of ways including push button, touch pad, motion sensor or on a time interval. Not only is Aropromo completely customizable in terms of design, the battery operated fragrance system is extremely power efficient, lasting up to 30 days.
Push
Pushing the button will activate a scent release for 10 seconds. A red LED blinks to attract customers. Scent will only be released when the button is pushed.
Touch
Touching the sensor will activate a scent release of 10 seconds. Scent will only be released when the touch sensitive surface area is touched.
Motion
Motion detection will activate a scent release of 10 seconds. Motion detector can be set to activate for movement within a range of 0.2m to 6.0m.
Interval
The scent release duration can be programmed to any interval, for example 20 seconds On and 20 Seconds Off (Standard), hours per day, Weekdays On & Weekends Off.
---
Contact us to start scenting
Contact Air Aroma and we'll help create your very own multi-sensory promotional campaign, using your scent and branding to create the perfect point of sale display.