For the great return back to the office, firms are strategizing ways to attract employees to return to in office work, investing in renovations and adding amenities to stay competitive, like office scents. The pandemic brought about astounding upheavals in the ways in which we work, instantly moving much of white-collar work to remote or at home for a time period. What started so abruptly hasn't necessarily ended the same way though, as this forced remote work experiment has revolutionized expectations around office culture, with many employees accustomed to the flexibility of remote work while leadership and industries are hopeful that a return to in office work will re-engage company culture, improve local economies, and offer more options to continue innovation.
Though office occupancy has hit its highest point since pre pandemic, (around 52% in September in the United States), the office return rate is still stalled compared to 2019 and earlier. While other leisure industries like restaurants, sporting events, and travel have rebounded, not everyone has returned to working in the office just yet. Whether this trend will continue as the pandemic loosens its grip on society is not yet known but focusing on upgrading interior office spaces to meet the challenges of today is key to enticing workers back to the office. Providing a great versus average experience will make a difference in people's willingness to meet and work in person. Here are some ideas to consider and ways to enhance your workspace.
Focus on the air
Make sure there is adequate airflow, comfortable temperature regulation, and proper ventilation. Adding a subtle ambient scent also communicates that the space is being cared for and will provide a better feel for the space. Upon entrance, scent can introduce a positive association since spending time in scented spaces has proven to enhance a positive mood. The right office scent can also help employees focus and concentrate, with oils like Peppermint in Sunkissed and Grapefruit in Pomelo Pulp. A distinct scent can help mark this as a space for working and provide a new environment outside of the home. Scent diffusers can make a subtle but notable impact when it comes to employee satisfaction and enhance the supporting design amenities of the space.
Consider the senses
Subtle touches can really make a difference when paired together, so choosing the right music, including how it's played and where it's coming from, as well as the genre and volume can create a welcoming but stimulating atmosphere. Harsh lighting can be especially off putting, so to create a welcome but alert interior consider hues and zoned lighting. Are there any visual components that communicate the intention of the space? This can include artwork, a water feature, or an outdoor space. And of course, don't forget an office scent for a fresh welcome and a continuous sense of cleanliness and care.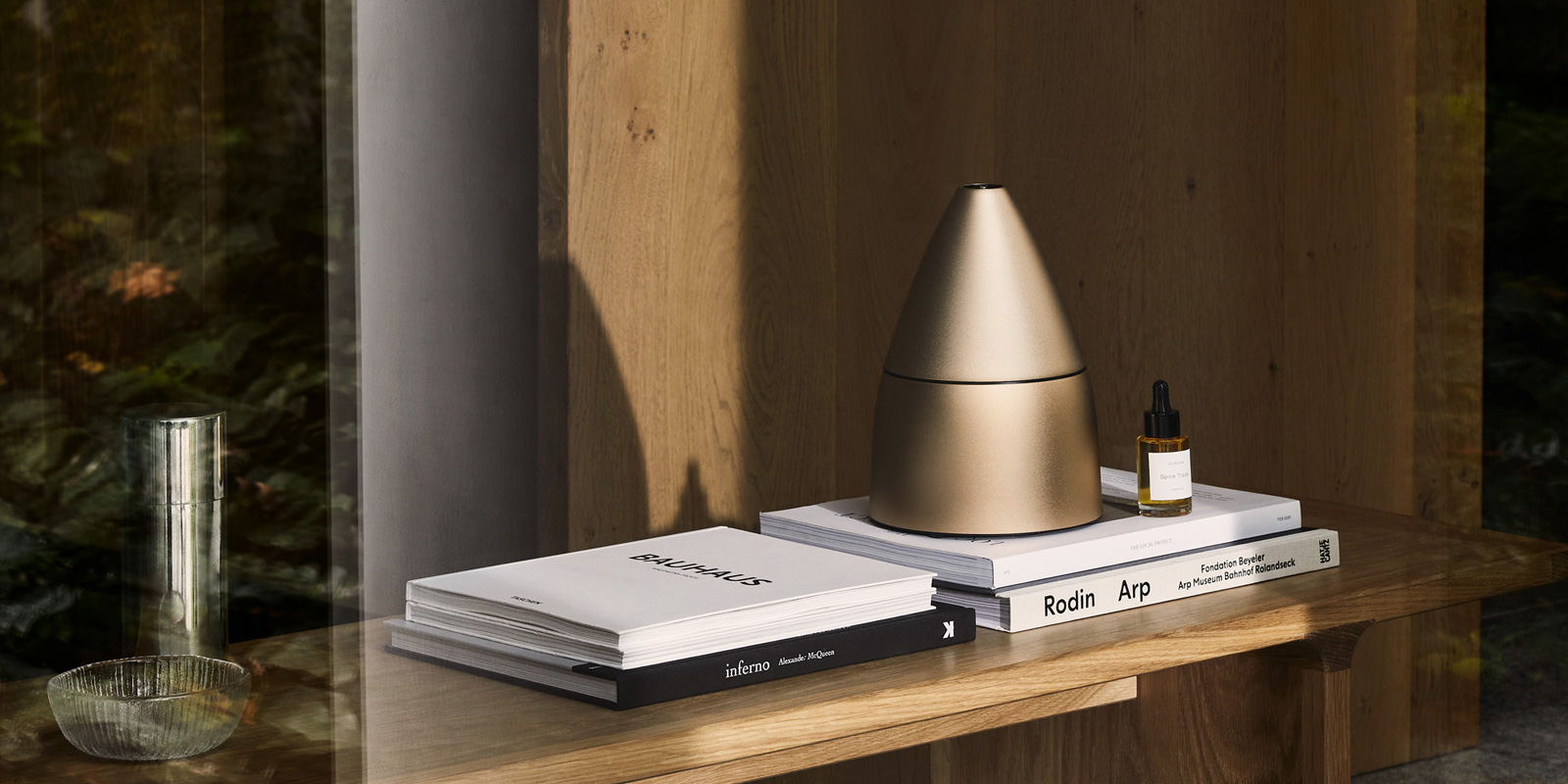 Bring People Together
One of the main reasons for working together in the office has to do with the sense of community that arises from being together. Being in person and exchanging ideas or solving problems in the moment together can foster deeper relationships and produce unique results that only come from sharing with one another in real time. Create spaces that support these actions and build social connections, like flexible meeting areas and smaller zones for breakout groups.
Whether it's a unique architectural feature, distinctive soundscape, or an office signature scent, it's wise to invest in components that bring you a competitive edge. Features that help tell your story will make your space memorable and a pleasant place to return to, which can help attract and retain the talent needed to sustain and support your growth.