Fit N Fast has embraced the fragrance phenomenon, combined with their unique and innovative concept of Virtual Group Fitness, offering their members a truly immersive fitness environment. The virtual group fitness allow members to access classes via a touch screen player, loaded with a range of exciting classes to pick from. One of their newest locations to open in Wetherill Park, Sydney, is complete with 2 distinct virtual fitness rooms. Each virtual fitness room features large floor to ceiling screens, mood lighting, décor, and an ambient essential oil fragrances which has been designed by Air Aroma to compliment specific activities.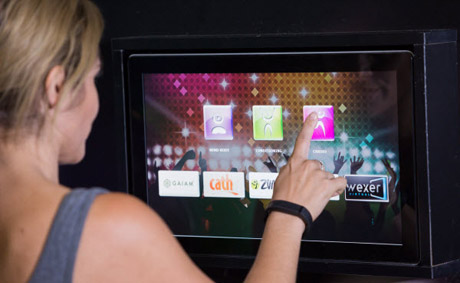 The Yin room features relaxing exercises such as yoga, meditation and stretching. Upon entering, an Air Aroma essential oil blend tailored for the needs of yoga and meditation is diffused throughout the room. The fragrances feature notes of lavender and orange to induce calmness and inspire positivity, eucalyptus to assist with focus and respiratory function and warm sandalwood to reduce tension.
The Yang room presents a more energetic feel, offering high intensity and cardio exercises like Zumba and Pump classes. For this space, Air Aroma produced an essential oil blend tailored to create an upbeat, positive and energetic vibe. The fragrances feature scents of zesty lemon and lime to enhance concentration and spirit, bergamot to help reduce stress and niaouli to assist with respiratory breathing.
Members can immerse themselves in the sights, smells and sounds of classes conducted onscreen by some of the best instructors in the world.
All essential oil blends contain anti-bacterial properties which break down bad odours, deter common ailments and air borne bacteria.
Air Aroma's fragrance specialist can tailor make an essential oil to to suite the needs of any type of workout environment. Incorporating tailored fragrances will not only increase brand recognition and enhance mood, but members are able to enjoy a healthier place to retreat each day.
If you are interested in scenting your fitness centre or creating your own signature fragrance, contact us for a recommendation.
Click here to learn more about Fit N Fast's Virtual Group Fitness Classes.